By Zach
Every Halloween me and my family do a haunted house. But we do not do our entire house, we only do our  garage. This year will be our 6th year of doing the haunted house (garage). In our haunted house,  we use a lot of animatronics to scare people. Our animatronics jump out at trick-or-treaters because the ghouls sense movement. We have some that jump and some that are standing and shout out scary noises.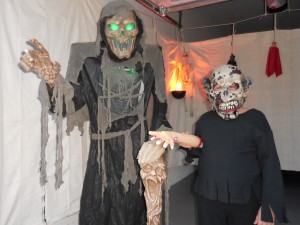 Picture by: Joel Carpenter
We also do a haunted graveyard for the little kids.  It is not as scary. The way that we normally work it is that my mom does the graveyard, and I sneak up behind people in the garage. When they reach for the candy,  I scream at them and that activates the animatronics and really scares them. This year we are using other things besides candy that have no sugar. That is our normal Halloween.