Geocaching is basically a treasure hunt. First find coordinates online of caches in your area. Caches are the "treasure" you find. Once found type the coordinates into a G.P.S. or phone. Follow the directions. The directions come to a close place but no to the exact place that the cache is hidden. Then its time to find the cache. Once the cache is found sign the log.  Then take the treasure from the cache, but don't forget to replace it with something that is around the same value.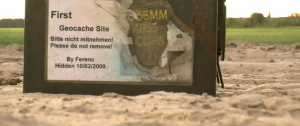 Although I have never been geocaching, I think it would be fun. It seem like a good way to spend time with friends and explore the outdoors!  I'm looking forward to go geocaching this year at A learning Journey. So I can learn how to, and teach my family how to! This seems like a more sophisticated scavenger hunt! I think it's a cool way to get into the community and meet new people!
At school I think it would be loads of fun to make a geocaching site. We could hide caches indoors and out. The caches could be like a story or poem or pencil case.  We could make maps instead of using a G.P.S. We could work on different parts in different classes. Like in Math we could make maps, in Humanities we could make caches and in Gym we could place the caches. Then we could also teach our buddies how to go geocaching, and help them find some.