Home – About Us!
Header picture by Rebecca and background picture by Stella and Ella…
Welcome to our 6th grade blog. We have exciting ideas as the year winds down and hope you will continue to connect and share with us during our web 2.0 journey. We have been learning about places, religions and people around the world (the past, and the present.) We love to communicate with students from all different places and look forward to hearing from you. We took part in a Quadblogging challenge with three other schools and visited other schools across the globe through Skype, Twitter and TodaysMeet. We also took part in some Edublog challenges where we have to do a certain challenge through a blog post. Please browse our blog and leave us a comment. We will do our best to respond to each comment we receive.
Follow @pds6th We love to Tweet! When we tweet in class we usually divide into four groups to work together on -
1. Tweeting about school
2. Checking out our new followers and thanking them
3. Responding to re-tweets and comments from others
4. Finding interesting things on Twitter to share (Smackdown time)
Here are our blog posts about what we think about Twittter in schools.
____________________________________________________________________________
Nature's Classroom : by Cam, Lily, Aaron, Paavo, Charlotte, Julian and  Joanna
Our school is fortunate enough to have fun activities and go to cool places like Nature's Classroom. This is an overnight camp that the 6th and 7th grade went to for five days and four nights. We got on a coach bus and drove for over two hours. When we got there we had to unload all the luggage in a bucket brigade fashion. After that we had an awesome lunch. We had meals family style where one of the kids at the table was a waitron that brought the food and cleaned up. Everyone at the table got to be a waitron at least once. Then there was the ORT report. ORT is the food that you put on your plate and don't eat. The Nature's Classroom staff weighed our ORT and told us how much we had. We tried to get as little ORT as possible. Every night we had cool activities. The first night we had a science fair, the second night we had a night hike, the third night was the underground railroad simulation and the fourth night we had Thursday Night Live. During the day we had a lot of fun activities too. There were activities such as: dissections, building activities, group activities, science activities and more. During the day we had one to two hours in groups called field groups. In our field groups we would do a variety of activities such as: hikes, challenges, games and more. It was really fun and we all want to go again.
____________________________________________________________________________
The Boy who Harnessed the Wind by Hannah, Lia, Celia and Charlie
In humanities class, we are reading a book called The boy who Harnessed the Wind  by William Kamkwamba and Bryan Mealer. It is an autobiography about William who is from Malawi. Malawi is a very poor country in Africa, where most people are forced to farm and where they are very behind in technology. William had a difficult childhood, yet he still managed to make things work. The book talks about when his father would tell him stories of Malawi past. They seem to us to be unbelievable, unable to happen and foolish. There were stories of William getting a weird magical power that involved cutting open his knuckles and pouring charcoal into his cuts, which supposedly gave him super strength. The Malawians have different values than we do in the USA. We go to stores to buy gum and think nothing of it, but in Malawi gum is a luxury. William got in big trouble because some boys found gum and gave some to him. The book shows us how different people from the USA are from people in Malawi, but in some ways, we are also the same. Most people in Malawi don't have electricity. William's family didn't have electricity, until the 90s. Find out how he made electricity in The Boy who Harnessed the Wind. Shirley our teacher recently had the opportunity to meet William.

William's Ted Talk

____________________________________________________________________________
Humanities 2 students are working collaboratively with St. Mary's grade six class from Alberta, Canada on reading aloud The Phantom Tolbooth. Our classes are mixed into groups of four and we discuss the book during our teachers reading of it using TodaysMeet. We are getting to know one another and enjoy working with students from another country.
Here are our thoughts on the first several chapters…Reflections
What is an idiom? Find out from our posts!
What is a humbug? Here are our ideas…St. Mary's we'd love to read your comments…
Here is one of our  challenge from our Canadian buddies…
_____________________________________________________________________________________
For Digital Learning Day, we worked with our kindergarten buddies and together we made Vokis about us.  We
all enjoyed working together and it was fun!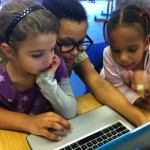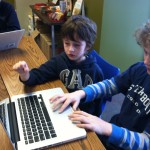 __________________________________________________________________________
Humanities 1 is connecting with St. Oliver Plunkett School in Derry, Ireland via Skype and TodaysMeet. Our two classes are looking at World War 1 through the lense of William Owens and his poem, Dulcet Decorum Est. We were lucky to have Josie, our head of school visit last week to share her knowledge on this topic with us.We learned a lot during her presentation.
We wrote some World War1 poems during our online snow day chat last Friday. We'd love some comments on them…
_____________________________________________________________________________________________________________________________________________________________________
Latest student posts on our Dreams for 2013 – taken from twitter hashtag #stuvoice
Here are our book talks. Hope you enjoy reading our opinions and suggestions…
____________________________________________________________________________
Where are we?
We live in the north
The Atlantic divides us
Eagles fly above
Remember that a Haiku must have five syllables in lines 1 and 3 and seven syllables in line 2We hope many of you will participate, comment and leave a link to your Haiku. Our Haikus – Can you guess what, where, who they are?
_____________________________________________________________________________________
Review Update – Written by 6-1 and proofread and edited by 6-2
In our class (6-1), we started skyping with an Irish school named St.Oliver Plunkett Primary school in Derry, Ireland. We have skyped with them twice so far. It didn't work out well the first time because of connection problems but the second time was much better. The choir sang a song for us which was really cool, and now we are going to read a poem with them and share our thoughts. We look forward to talking to them again. 
 6th grade started learning about cathedrals and then we moved on to a castle project. The project involved a persuasive essay convincing a king to choose our castle design and included either a drawing or model of a castle illustrating our major defenses. We then presented our arguments to the class. In health and advisory, we have been learning about three major parts of the brain, the amygdala, the hippocampus, and the PFC (prefrontal cortex). You're probably wondering what these parts of the brain do? The amygdala responds to fear, threat and danger. It tells you whether to freeze, fight or flee. In different classes, we are trying to control our amygdala, so that we make mindful decisions. Once we make the mindful decisions, the hippocampus will store the memories. Next time the situation happens, the hippocampus will remember how to deal with it. The PFC creates mindful solutions if the amygdala is calm. Our class has recently started quadblogging. Quadblogging is a social media project where four schools from around the world get together and comment on each others blog. Each school gets a week where the focus is on their blog and the other three schools comment on that blog. Poughkeepsie Day School (our school) was the host school this time. This means that we coordinated our group. Schools from all over the world participate in this event. Quadblogging is really fun because you get to explore other class blogs. Usually the schools will put little writing assignments that you can choose to take, as well as commenting on the writing pieces from that school. We are taking part in a big event on twitter called #tinywarriors. This is where not only schools but people take pictures of little terra cotta wooden warriors all around the world. The picture will get posted on the MIA (Minneapolis Institute of Art). I would encourage for all of you to take place in this event. You can look at information on this website.The Things you need — A Tiny Warrior that you get from the MIA site- A place to take a picture of the Warrior- A program to put the pictures into a slideshow or album! During the month of December, Poughkeepsie Day School and four other schools participated in Canstruction Jr. hosted by Poughkeepsie Day School. Through the course of this experience our sixth graders had to create a design, calculate the number of cans needed to build, raise money for the cans, document the whole process and have a great time. We built a melting snowman which won three awards. The other structures were a horn of plenty, a world map, sushi and a peace flag. We won four awards for our snowman and we all felt very proud of sending so many cans of food to the local food banks.
____________________________________________________________________
 Science and Humanities combined classes
In science we did a class project, where we peeled and pickled apples. Then we made faces on the apple heads with rice and cloves. To begin our project each of us made a hypothesis about how much water the apples would lose. We weighed them by grams in every science class using the same balance scales to see the changes in mass. Our final results showed that about 80-90% of an apple is water. All of our information was recorded in graphs and charts.We decided to create some Scimanities classes to interweave science and humanities learning. Since we are studying medieval times (500 AD-1500 AD) and the people in that time period, we decided to make medieval characters from our apple heads. We took the apple heads and put them on sticks and then dressed them up as different people. We chose names for them like, Sir Robert Apple, Avalon, Celestia, Crispen etc. When we had finished decorating the apple heads, we wrote biographies about our characters and turned them into a Voicethread.
OUR APPLE HEAD MEDIEVAL CHARACTERS
________________________________________________________________________________________Our middle school has been working on NaNoWriMo Book Talks. NaNoWrimos stands for National Novel Writing Month. This is a writing program for students of all ages coordinated by The Office of Letters and Light.  Students are asked to write a novel with a certain amount of words in one month. The 7th and 8th grade students in our school all wrote novels between 2,000 – 10,000 words. Instead of writing the novel, 6th graders decided to create individual book talks using the Book Talk Questions from NaNoWriMo. A book talk is where you write about specific points of interest in a book of your choice without giving the book away. Every student in our class chose a book we liked and wrote a book talk about it, to get others interested. Check them out! They are really cool!)
Do you like reading novels? Check out our Book Talks on some amazing books and get some ideas for reading..