Welcome to our 6th grade blog. It is exciting to take part in many global adventures and challenges and we hope you will connect and share with us during this journey. We will be learning  about places, religions and people around the world (the past and the present) and would love to know what you are studying. We love to communicate with students from all different places and look forward to hearing from you.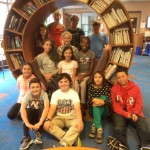 You will find links to our individual blog posts on our side bar and
on
the menu bar at the top of the page.

____________________________________________________________________________
We are Quadblogging this month with three other schools ….
1. Sharp Creek Elementary, Wabash, Indiana  – 5th grade – Reading Group 2
2. Prince Of Peace Christian School, Carollton, Texas – 4th grade – Mrs Peterson's Class
3. Williamsburg, Elementary, Geneva, Illinois – 5th grade – Mrs Frison's Class
It is our turn this week to post on our blog and the three other schools will comment on our posts. 6th grade voted to choose the topic for this week's assignment and "Passions" won. Here is the link to all our passion posts, but you will also find them under our names on the right side bar or under the Quadblogging category
_______________________________________________________
Check out our new stories – Personal Narratives – A snapshot of a memory in our lives…
We began by bringing in an object from home that  triggered a specific memory we had from our past. We worked with a partner to talk through our memories and decide what part we would write about. We worked on two graphic organizers to clarify our thoughts and ideas and outline our stories. Then we began our first draft.
Criteria for personal narratives:
1. Engages the reader
2. Organizes events to unfold naturally
3. Develops characters and details
4. Great transitions and sentence variety
5. Closes with a reflection
__________________________________________________________________________________________________
Update on the Edublog 2015 Nominations…   
We placed 4th in the group blog category #eddie15. Thank you to all of our voters  for voting for us and thanks to all the students before us who built up this blog.


We have been nominated for two Edublog Awards! There are eleven different categories and we are  nominated in two groups, 'Best Group Blog' and 'Best Class Blog'.
Thank you to everybody who nominated us!  Please vote if you like our blog! You can vote once per day from the same IP address until December 16th

Vote for us here!  

 
 Our Blogging Challenge Posts – Check them out! This is the last week of the Blogging Challenge and we are reflecting on what we have accomplished. We wrote posts about us, families, Halloween, different foods and nature. We have written many comments and also received many. Thank you to everyone we have connected with. Blogging challenges are fun and we nominated blogs for the Edublogs Awards this week.
__________________________________________________________________
Do you celebrate any special holidays during the winter months? Let us know what your family celebrates.
Here is a link to what we celebrate



  Menorah by John   Pic from Flikr
Crescent  Moon and Star  from SPTim
  ________________________________________________________________________________________________________________                                                                                                                                                                                                                                                                                                                                                              The Not Perfect Hat Club By Jena Ball – Written By Isaac And Justin 12/8/15
The Not Perfect Hat Club By Jenna Ball is a book about a dog named Sir Isaac Newton that thinks all dogs have to be perfect, even though they don't! Newton is not perfect and his owner brings him to a shelter because he wasn't perfect enough for the dog show. He brought him to the shelter and Newton called it "catastrophe". He started to recognize the sad voices of the pound. A man named Carl adopted Newton and another dog named Midge. He has many imperfections that he's not happy with, but he learns (spoiler alert) that it's okay not to be perfect. This book teaches children that no one can be perfect.
6th graders are working with our 2nd grade buddies on reading this book together and other activities. We video chatted with the author Jena Ball who is very funny and read us chapters. We also video chatted with two other schools, the author and Marty Keltz. We video chatted with more people than we had ever done with before – North Carolina, Canada, Upstate New York, Greece and us. Jenna taught us how to draw a dog, and she told us that it's okay for the dog not to be perfect. It is important for kids to know that they aren't perfect because if they try to be perfect, they will never succeed. The 6th graders and 2nd graders have a ton of fun together!

_______________________________________________________________________________________________
We are excited to show our work through our scary stories. Slightly prior to Halloween, we wrote scary stories and submitted them to the Poughkeepsie Journal in a competition against different schools all over! Here's how we wrote them:
We wrote our drafts. We wrote one paragraph at a time.

We had to make them less than 300 words. That was a new aspect of writing for us, as it meant that we had to make each word count.

We checked our stories over with some partners for clarity, spelling, etc

We made sure we had a few peer edits.

We submitted our stories to the Poughkeepsie Journal!
Every year we write scary stories. It is difficult to  win because we have to compete with 6th, 7th, and 8th grades!
Our stories will send a chill down your spine. We hope you will enjoy them!

News Update…
We have some recognized writers in 6th grade!  Zach in 6th grade was chosen as the runner up and Zoe and Elizabeth were given honorable mentions. Congratulations! Click on their names to read their amazing stories
____________________________________________________________________________________________________
---
 Buddy Time
The First Few Weeks Of School

________________________________________________________
Middle School – Written by 6-2

Our PDS Middle School Environment is very different than other schools. We have a wonderful learning space called the learning commons. In the commons we have comfortable work spaces.  We also have many fantastic classes including one that some people probably haven't heard of. It's called Humanities and it is a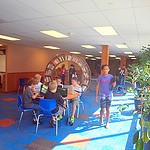 mix of English, Social Studies and History.
Middle schoolers also get the chance to use online academics and we call our teachers by their first names. We can organize our own dances and put on plays and perform for our families. We have a great arts program, and this year we just got a new music program in the middle school. PDS is always trying to create a better environment for their students, faculty and parents.
The lunches at our school are different than others. They have the option of a side salad or fruit bowl which most schools don't have. We also have different things that most schools don't have including dumplings for Chinese festivals and a salad bar for people who like to customize their salad. Over time every chef we've had has been different. One year snacks used to be brought to your classroom. They could be sweets or even healthy food like vegetables and fruit, but now we don't have that. We have Pizza day and an occasional Taco Tuesday. I hope in the future we get more healthy foods!
The PDS athletic program offers many choices to encourage our students to be involved in multiple sports. All middle school students are eligible to join the basketball and soccer teams, they are also able to join the high school cross country teams. Girls in 7th and 8th can join the varsity softball team, and 8th grade boys and girls can sign up for the varsity Ultimate Frisbee team. Our sports program is off to a great start as our soccer players build momentum toward their first game of the year!
Even though most of the middle school has not gone on any field trips yet, we all know what to expect. The 8th graders are going to have a wonderful time in NYC. They will be seeing the Broadway show The Curious Incident of the Dog in the Nighttime. Another field trip that happens every year in the middle school is Nature's Classroom. Please note that this is being written by a group of 6th graders who have not yet gone of this field trip. So we will explain the best we can! Nature's classroom is a time when the whole Middle school goes to stay for a week in Massachusetts, learning and having lots of fun! We will have more on field trips for you once we go on one!
At PDS our Music program encourages everyone to play a wide range of instruments. We have teachers for wind instruments to strings percussion brass and vocals!. This year we were given the option of being in a chorus or in an ensemble. Both are great but if you don't play an instrument there's always the great choice of learning a new instrument. In chorus you work with our vocals and piano instructor, Brielle Grover on an expanse of different songs, all to improve your vocal range or just to have fun. In ensemble you will get to work with our bass instructor Damon Banks but he is a great instructor at everything. There are different sections for every instrument. Piano, Guitar(acoustic or electric), Percussion and vocals. We can't wait to do our first performance for Chorus and Ensemble!
The middle school at PDS uses computers and technology for most of their work. The school provides each student with an e-
mail account, that way students and teachers can communicate in an easy way.  On the first day of school every middle schooler has to sign a tech agreement, to agree to use technology in a responsible manner. Every day students are required to bring their laptop into school with a protective sleeve. We use our  laptops every day in almost every class. We use them for classwork, homework, and more.
     6th Grade – Written by 6-2
The difference between Lower School and Middle School is really big, so here is a little about it. In Lower School we had classes in the same room, now we change rooms basically every class. In middle school we have break time so we either eat a snack, go outside or go on our computers. In lower School we had recess and snack time. Now in 6th grade we have to remember what classes we have at what time, and not be late. It is sooo different in 6th grade.
We also have tons of more responsibilities in 6th grade, like going to the bus by ourselves. W have to be careful when we do that so we don't miss the bus. Going to classes is a lot harder because we don't have teachers to tell us where to go and we have to look at our schedules and navigate the day by ourselves.  We have to pick some of the classes we take, which is always a hard decision for those who don't know what they want.
In Math, we are learning about ratios. Ratios are things that let you explain the difference between two numbers (example: There are 5 boys at a party and 4 girls, the ratio for that would be 5:4 or 5 to 4). Equivalent ratios are Ratios that mean the same thing but they have different numbers. How you get an equivalent ratio is you multiply both number by 2, 3, 4, 5, etc? (example: 5:4 x2 = 10:8 – so 10:8 is equivalent to 5:4).
In Science lately we have been doing some labs. Right now we are finishing our Lifesaver Lab. The Lifesaver Lab is a lab where we are putting different colored Lifesaver in water to see which color goes quicker. Our results vary a little bit but orange seems to be the slowest.
In Spanish we have been learning about the days of the week. Also we have been doing stories where the teachers narrates and asks questions and we answer the questions in Spanish using the clues on the board.
We did a few polls to see what the 6th grade likes the most. Our first poll was what do you like better, Middle School or Lower School? The answer was that the 6th grade likes Middle School better. Our Second poll was what is your favorite class, Science, Spanish, Humanities or Math? The answer was that the 6th grade likes Science the most.
Humanities is a mix of a different subjects, and this year we are learning about medieval times.  We learn about times from a long time ago and how they did things. We did some summer reading about a medieval times book called Crispin the Cross of Lead by Avi. It was interesting to see how much the world has changed since then and now. In Humanities we do lots of activities that have our group work together. One time we had to write what we thought Humanities was going to be like this year. Shirley is our Humanities teacher and she puts us in groups for a lot of different things. For example, we have things like editing which we do in pairs. We also do lots of other things in groups.  We are reading two books right now. One is The Story of the World and the other is The Boy Who  Harnessed the Wind. Humanities is a very fun and exciting class!!!
__________________________________________________________________________________________________________________________
___________________________________________________________________________________________________________________________
Canstruction JR®   

Hunger is a huge problem in the United States and has been going on for centuries. More than 45 million people in the US alone don't have enough to eat and about 840 million in the world are also in need of food. There are organizations and projects that are trying to stop world hunger. One of these charities is a group called Canstruction. The idea for this organization was started by a designer in 1992. It was a competition for engineers who would use donated cans to build structures. Out of that event came Canstruction Jr, a similar competition for kids in kindergarten through twelfth grade.
This year, we are in 6th grade and we are attempting to design an amazing structure for Canstruction Junior to build at the Galleria Mall on January 30th.  We are happy that we get to be a part of helping the hungry all around the Hudson Valley.                                  

We have been working every D Day to complete this Canstruction project. We worked on this feat
by creating groups and giving those groups different jobs. This year we are building a m
edieval castle made of cans to show people that hunger has been a problem for a long time. Each group works on different things to build this structure. This year, we have a Tinkering team, Engineers and Architects, PR and Marketing, Fundraising and Procurement and a Digital Story Group. These groups help us to complete all the tasks necessary to have a successful build.
 Tinkering

Our team for Canstruction Jr® is Tinkering. We have to figure out what mechanical devices we can include in the Canstruction design. We have been trying to see how we can incorporate movement , sound, and lights into the head of the king.  So far we have figured out how we are going to build the king and the measurements for the head, body, and arms. We also are in the process of designing the arms. One thing we still have to do is design the lights and movement for the king. Even though we ran into a couple distractions and obstacles I think we work hard and well together.

Engineers and Architects
Our job is to design and calculate all of the statistics of the structure. To design the structure, we will need to look and think about the best way to have the structure stand on its own. We are using Tinkercad to help with the design. When we are finished designing, we can use the designs to help calculate the number of cans that will be used to build our structure and measure to see what our base and height is. When all of that is done we will start to print on the 3-D printer.
Eamonn and Quinn worked on the schedule of the build while Sebi and Ethan worked on all the dimensions for the castle project. Our group has finished the amount of cans, the schedule, what cans we need, the length and width of the towers and the length and width of the castle. We still need to finish the dimensions for towers and walls, and we still have to practice-build parts of the castle. Our team has worked well on the activities, except for a few distractions.  Our group really likes Canstruction Jr®, and are all excited for the big build.

PR and Marketing
We are the PR & Marketing group. Our job is to promote Canstruction JR® and tell people what Canstruction JR® is all about. So far we have sent letters to Coca Cola® and Goya® so we can get cans and water bottles donated to build our school's structure. We still need to complete getting the word out to our school and the community. We are trying very hard to get the word outside of our school. We are thinking about going to the elementary school meeting to tell them about Canstruction. 
Our team has worked together well most of the time on all of the activities that we have done so far. We also have finished a presentation, and we have also accomplished making donation boxes for cans. We have had a lot of fun so far and we to have more in the future. We all like this project very much a

nd we are very excited for the day we get to build our Canstructio

n Jr® project!

 
Fundraising and Procurement  
Our job is fundraising to raise money for our build. We also plan on donating to the Food Bank of the Hudson Valley so they give food to the less fortunate. We are having the bake sale at our school on Wednesday, January the 21st. We made posters to tell people that we are having a bake sale then put them around the school. Some people in our group worked with people in the Public Relations group, and made the donation boxes to put in various places in the school. Then we organized the Canstruction Jr. T-shirts our class is going to wear. Our group is working really well. We work together to make posters and raise money. 

We need to gather more people to bring in food for the bake sales and make more signs to promote it. Also, the donation boxes need to be finished. Things need to be worked on with the bake sale, because it's happening on Wednesday. There needs to be six boxes and we currently only have four. We can't wait until Canstruction Jr® officially starts!
________________________________________________________________

Winter Holiday Season – What do you celebrate at this time of year? Let us know….
Menorah by John   Pic from Flikr

Crescent  Moon and Star
Click on our names to read our posts about celebrations…
Anna                                     Mollie

Audrey                                  Matt                                          
Bastien                                  Memphis

Eamonn                                Mike

Eden                                      Khalil

Ethan                                    Reese

Ibrahim                                 Sam

Jane                                      
Sebi
Josephine                             Quinn

Julian                                    Shane

____________________________________________________________________________________
We are taking part in the Edublog Challenge where we completed a certain challenge through a blog post.  Here are our Edublogs Challenge Posts. Please browse the rest of our blog and leave us comments. We will do our best to respond to each comment we receive. Follow @pds6th
_____________________________________________________________________________________________________________________________________________________________________________
_______________________________________________________________________________________
Global Read Aloud is going well in our middle school and it is fun to read in different classes every day. We are Tweeting about the book, One For The Murphys by Lynda Mullaly Hunt , and using Edmodo and Skype to collaborate with other students around the world. Want to know more? Here is the book trailer.   A link to our #GRA Posts
_________________________________________________________________
We love to Tweet! When we tweet in class we usually divide into four groups to work together on –
1. Tweeting about school
2. Checking out our new followers and thanking them
3. Responding to re-tweets and comments from others
4. Finding interesting things on Twitter to share (Smackdown time)
Here are our blog posts about what we think about Twittter in schools.
________________________________________________________________
We had our first buddy day last week and we all enjoyed getting to know the PreK and K class. Here are our first blog posts about our time together.
Our First Buddy/Mentor Day…in slides
We think our buddies are….
______________________________________________________________
Our New Year in Middle School The First Days
________________________________________________________________________________________________________
STEM to STEAM – Canstruction Project – By the 6th graders
Canstruction started off as a competition in the USA for adults and professional architects and is now held in locations such as North America, Australia, South America, Europe, and Asia. Everyone participating in Canstruction, builds a structure entirely out of cans that will be judged in many different ways.
Our school, Poughkeepsie Day School created a kids competition based on Canstruction. They named it Canstruction Jr. After the build, all of the cans used are donated to a Local Food Pantry named The Hudson Valley Food Bank. Canstruction gives an amazing learning experience to students that includes math, science, arts and humanities. 
PDS first got introduced to Canstruction preparing for the 2011 fall festival. Two PDS parents, Catherine Harris and Christine Agro both knew about Canstruction, and thought it would be cool to do it at the school. At first, just those two parents, a teacher and several kids were involved, and they all built a fireplace from cans in the Gilkeson Lobby. The only purpose of this was to try Canstruction out, and everybody really enjoyed it! Students and teachers who walked by and saw the structure thought it was really cool, and wanted to build their own structures out of cans. The next year, one of the parents, Christine Agro, who helped build the "test" structure decided to start something called Canstruction Jr which was basically the same thing as Canstruction, but it was for kids, students to be exact. It is a friendly competition type of event that any school in the Hudson Valley can participate in. Everybody entering Canstruction Jr builds a structure. All structures are then put on display for people to see, and to be judged for the future Canny Awards.
It took a while to figure out what the sixth grade was going to build for Canstruction Jr. We thought of what themes we wanted to get out to the community. Our class decided since we are helping the hungry, we wanted the theme to be world hunger. The class split into groups of three and came up with different ideas. We then shared those ideas with the class. Each person scaled out their idea on graph paper. Someone thought of doing a giant Goya can and another person came up with the idea of a hand. So we put those two ideas together and came up with a hand holding a can. This symbolises a person giving or receiving a can to represent world hunger.
When we started Canstruction, we split up into committees. Our committees were: Documentary, Fundraising, Public Relations, Architects/Engineers, and Analytics. Below are brief summaries of our different committees.
The Documentary group were in charge of documenting this whole project, from beginning to the end. They also were responsible for creating a documentary with pictures and videos  showing everything we have done in Canstruction jr.
The Fundraising group raised all the money. They organized events such as bake sales, a raffle, loom bracelet sales, speeches, and usually made the events happen.
The P.R group pretty much did all the advertising in Canstruction Jr! They made a Canstruction website, posters and boxes for cans and got information from the organizer of Canstruction Jr.
The Architects/Engineers were in charge of designing the structure and making sure every detail worked. This team drew a lot of sketches, then decided on the size of the structure. The next step was to create a 3D model which was our first prototype 3D print. It helped a lot but it was too small and too tall. A final model was finally printed and the model was used to guide us on the night of the build.
The Analytics group found statistics and background information on world hunger to support the public relations campaign. They wrote and filmed a 4 to 5 minute PSA that is currently on the PDS website. They also wrote a letter that convinced Goya a to donate around 900 cans!
This year we did a lot of planning for Canstruction JR . A week before the build, we split up the class into two  groups. The first group would build from one time to another time, than the second group started to build the structure when the first shift ended. The day that the cans Goya donated came, the groups did a practice build. Then we decided how we would build the can in a hand. We wanted to make sure that everything would look good from keeping labels straight to keeping it stable. But there was one problem, we were 100 cans under so that night the teachers went and got more cans to make the structure  perfect. Not to mention, since we needed Masonite to keep the can stable, we spray painted it silver to make it look more like a can.
On January 31st, the 6th grade went to the Galleria Mall to build. The first shift of kids who went arrived when some structures were already built but some weren't even started. That was because kids could build their structure from 3:00    pm-3:00am. Everybody stayed there for a long time so they got food and water but when we got tired some of us sat down and filmed the structure. That way there was no wasted time and everybody was always doing something. The 1st shift built most of the can and figured out some glitches. The 2nd shift built the rest of the can and the whole hand.

__________________________________________________________________________________________________________________________________